Against The Wall
What happens when the bell rings?
High school teacher, Shelly Gelson, is conflicted by her love for Chase Marino,
the man who strung her along for ten years before dumping her for another women,
and her overwhelming desire for Matt Fuller,
who is the perfect combination of the sweet boy next door and ultimate sexiness.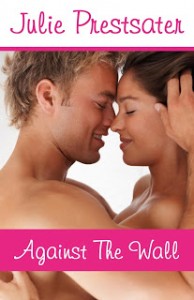 Sassy teacher, Shelly Gelson, is attempting to recover from being dumped by her colleague slash high school sweetheart. Finding the perfect rebound guy could be just what she needs if only he met her dating standards. First, no co-workers. Seems easy enough. But her second requirement is odd to say the least. Shel refuses to go out with any guys who drink light beer. Dating someone who drinks beer you can see through is definitely a deal breaker in Shelley's eyes. Luckily, Matt Fuller is ready to take on her smartass attitude and love for a cold brew. But only after he sends her on a few dates with other guys just to prove he's the one, even if he does teach just down the hall from her and has an occasional pale ale. Of course, Matty's competition drink honey blondes and wine coolers, so Shel can't ditch them fast enough. If the halls of Carver High could talk, they'd say the students aren't the only ones creating drama. When the final bell rings, the cameras should roll. Shel, Matty, and the rest of the staff could totally be stars on the next hit reality TV show.
If you loved Julie's young adult Double Threat series, you'll be fascinated by this adult crossover where you'll find out what happens at Carver High when these sexy, comedic, and oh-so-fun, teachers leave the parking lot.
Purchase Now