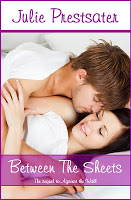 The passion between Mel and Ty is undeniable. But do they have the love to go the distance?
Melissa Cruz has been in love with her best friend's sexgod of an older brother since … well, since forever. She let Tyler slip away in the past, but this time she is determined to have a second chance at love, even if that means packing up and leaving her family and best friend behind.
Tyler Gelson has admired his little sister's spitfire of a friend since the day since the day he met her. Over the years, that little girl has turned into one hell of a hot woman and he has definitely taken notice. The love he feels for her has him making some tough decisions. Ones that involve leaving his dream job and moving back home for good.
When unexpected news comes their way, will Mel and Ty let the distance wreck their second chance at happiness? Or will these soul mates prove that the love they share is more than what happens Between The Sheets?
(Although, that's pretty damn good too.)
What do you think? 
It sounds pretty good, right?
Well, it will be yours to read on Tuesday December 11th. Add it on Goodreads.
I've been getting a ton of positive messages, FB posts, reviews, etc. about Against The Wall and I can't tell you how thrilled and appreciative I am of all your comments. I'm in total awe that you would take the time to share your thoughts with little ol' me. Keep them coming! I love it!
I can't wait to hear what you all think of Between The Sheets!
Happy reading!
Julie