Throwback Thursday
I have  a few favorite parts in Double Threats Forever. The excerpt below is one of them, and it's just as great from Alex's point of view. This scene is beyond special to me.
At one point, the spokesperson asks all Marines in attendance to rise. Near us, an older gentlemen stands wearing a red ball cap that reads "USMC Veteran" in gold lettering. His legs are a little wobbly as he raises a shaky hand to a salute, but the hardened look on his face is sheer determination. A young woman sitting next to him has tears gliding slowly down her cheeks.
"Is he your dad?" I ask.
She dabs at her eyes with a tissue. "Yes. We're all here," she gestures to the people next to her, "to see my friend who's graduating today. Me, him, and his girlfriend have been friends since the fourth grade."
"Wow, that's a long time." I think of Keesh and smile.
"My dad is a Vietnam vet so things like this always get emotional for us." She reaches out to steady her father as he sits.
He glances over at me, and I tell him, "Thank you, sir, for your years of service. It's an honor to be here with you today."
He nods with a gleam of pride in his eyes. "You're very welcome."
---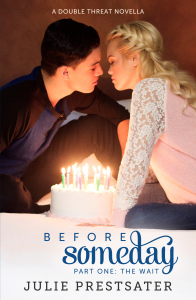 Part One: The Wait
Available now!
99 Cents… Release Week Only!
Amazon | iTunes | Barnes & Noble | Kobo |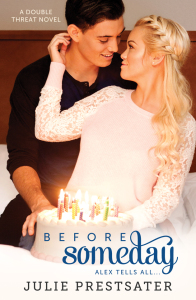 The Complete Novel
Coming March 29, 2015
Add to Goodreads
Before Someday Trailer
Isn't that the sweetest thing you have ever seen?
Please be sure to share!
The Double Threat Series…
The books that started your long-lasting love affair and obsession with Alex. 
Put your hair up, grab some popcorn, kick off your flip-flops and devour this four-book young adult romantic comedy series.
(These books have content that is intended for mature YA/Adult audiences.)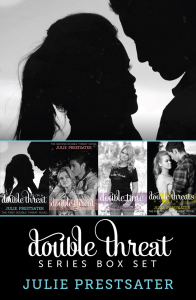 Amazon | iTunes | Barnes & Noble | Kobo 
Subscribe to this mailing list for updates on Alex's story "Before Someday"