Before Someday Release Day!
Thank you! Thank you! Thank you… for all your support! For coming back and reading these posts on a daily basis! I truly appreciate each and every one of you. I hope you've had a blast with the Double Threat Crew. I know I have. It's been a wild ride of ups and downs as we've laughed, cried, and ooed and awwed with this crazy-ass cast of characters. Thanks for joining!
It's not over yet! Make sure you get your copies of Before Someday! Spread the word. Share. Share. Share. Review. Review. Review. These two things are the greatest gifts you can ever give to an author. So, again… SHARE & REVIEW!
Also, take a look at the Property of the Double Threat Crew Teespring campaign! Are you part of the Double Threat Crew?
When you're done there… mosey on over to my Facebook page for 24 hours of giveaways! 
Thank you again! Love you all. So much!
Our someday is today! Let's go out and grab it!
All my love,
Julie
The Double Threat series follows Meg's crazy world as she navigates high school. She finds love, loses love, finds it again all the while dealing with backstabbing friends, shitty dates, and the inevitable boy problems. She also has an amazing cast of friends who are funky, fun, witty, loyal, and downright goofy. Imagine the Pink Ladies in modern times. This is the Double Threat Crew!
In Meg's books, she falls hard for Alex Aguilar–sexy hot stud who's not only HOT, but he's sweet, loving, and he makes her heart race and her toes curl just being in his presence. He's not a bad boy. He's not an alpha male. He's the uber kind guy who lives next door that you drool over when you go to sleep every night.
In the first four DT books, you wonder about Alex. Wonder about his motives, his thoughts, his time away at school. You want to know more about him other than the fact he's Meg's soul mate. You want to know the inner workings of Alex Aguilar.
That's what BEFORE SOMEDAY is. It's Alex's Tell All. It's his opportunity to set the record straight and allow you to get to know him. You're going to hate him at times. You're going to want to shout at him to man the hell up. But you're going to love him, I promise you that. You're going to want him for yourself, for your daughter, for your niece, for your friend. Even with all his flaws, you're going to want to hug him and love on him for the rest of your life.
Get out your Kindle, Nook, tablet, phone, and grab Before Someday now. Read in parts! Or read the full novel.
Before Someday: Alex Tells All- The Complete Novel:
176k words (That's 2-3 full size novels)
$2.99 release week only
$5.99 full price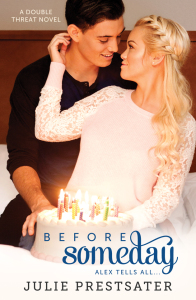 Before Someday-Part One: The Wait
30k words
$0.99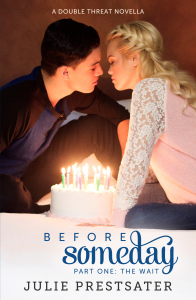 Before Someday-Part Two: The Moment
46k words
$2.99
Before Someday-Part Three: The Hold
48k words
$2.99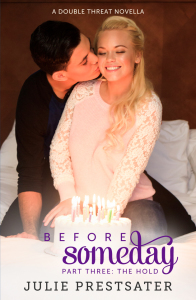 Before Someday-Part Four: The Forever
52k words
$2.99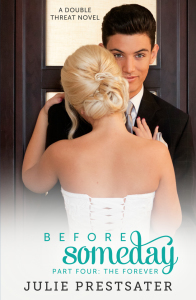 Before Someday Trailer
The Double Threat Series…
The books that started your long-lasting love affair and obsession with Alex. 
Put your hair up, grab some popcorn, kick off your flip-flops and devour this four-book young adult romantic comedy series.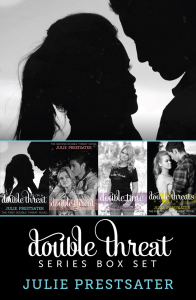 Amazon | iTunes | Barnes & Noble | Kobo 
 (These books include content  intended for mature YA/Adult audiences.)