19 Days until Before Someday
 It's Top Five Friday
There are so many places we could go with this, but let's start with the top five things I've learned from writing The Double Threat series–specifically Before Someday.
I don't know shit about architecture. I wish Alex would have majored in something like Childrens' Literature. Or liberal studies. Architecture? What was I thinking? Oh, I know. I didn't plan to write Alex's story.
According to Cal alums, you spell Stanford–> StanFURD. Major rivalry between the two schools. Watch out!
My writing has improved. A lot…since I wrote So I'm a Double Threat. I mean, a lot.
Cheetos are delicious. Kitkats are divine. And Slurpees are the freaking best.
Josh is by far one of the funniest characters I have ever written. Love that kid!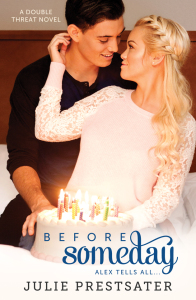 Coming March 29, 2015
Add to Goodreads
The Double Threat Series…
The books that started your long-lasting love affair and obsession with Alex. 
Put your hair up, grab some popcorn, kick off your flip-flops and devour this four-book young adult romantic comedy series.
(These books have mature content that is intended for older young adult audiences.)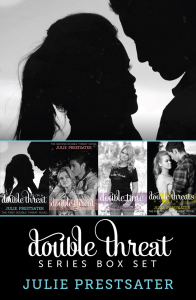 Amazon | iTunes | Barnes & Noble | Kobo 
Losing It: A Collection of V-Cards
Here are 22 sweet and sexy ways to turn up the heat!
In this YA/NA crossover collection, all of your favorite heroines are cashing in their VCards! YA just got steamy, sexy, and not afraid to go all the way!
22 Bestselling Young Adult authors reveal what went on behind the curtain in your favorite YA novels! From paranormal to contemporary, this collection features over 200 pages of ALL NEW CONTENT full of sizzle and heat!
Losing It features intimate liaisons, spontaneous sex, awkward and romantic first times between contemporary and paranormal characters. Scenes that will make you blush, and moments that will have you laughing out loud. From mating rituals to fairies, the undead to the unsuspecting, there's something here for every mood.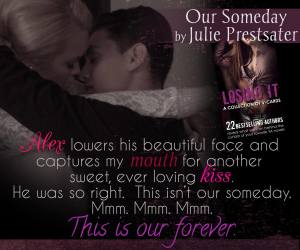 Our Someday is my contribution to the collection. It's an extended—and much sexier—version of a scene from Double Threats Forever (the last book in the Double Threat Series). If you were pissed off at me for ending the series without giving you all the naughty details, here's your chance to find out what happened next. I can't wait for you to read it.