Surprise!
Before Someday- Part One: The Wait is available now.
Like I have said before, Before Someday is a really long book. So long I decided to release it in parts. Each part is anywhere from 40,000-55,000 words. They're longer than your average novella. If you're anything like me, you might like to read a book in one sitting. Get in, fall in love, cry, laugh, swoon, ooo, aww, get out! With a giant book like Before Someday, reading it in one sitting could take over 24 hours. Ha ha. With parts, you could get that one-sitting satisfaction, Or you can wait for the whole shebang and read the complete novel all at once if a bigger book isn't too intimidating. Make sense?
Another reason I wanted to release it in parts is because of the content. The first two parts definitely belong to the teen/YA genre; however the last two parts are more New Adult. Alex is older at this point, and he sees things through a different lens than his younger girlfriend. Things get a little steamier, so I wanted to make that distinction for my younger YA readers. Again, make sense?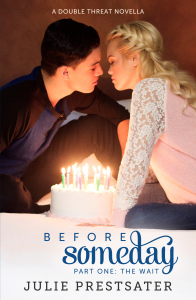 Part One: The Wait
Available now!
Amazon | iTunes | Barnes & Noble | Kobo |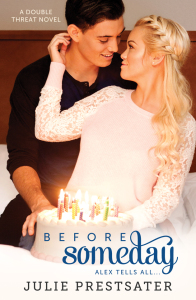 The Complete Novel
Coming March 29, 2015
Add to Goodreads
The Double Threat Series…
The books that started your long-lasting love affair and obsession with Alex. 
Put your hair up, grab some popcorn, kick off your flip-flops and devour this four-book young adult romantic comedy series.
(These books have mature content that is intended for older young adult audiences.)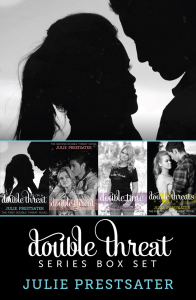 Amazon | iTunes | Barnes & Noble | Kobo 
Losing It: A Collection of V-Cards
Here are 22 sweet and sexy ways to turn up the heat!
In this YA/NA crossover collection, all of your favorite heroines are cashing in their VCards! YA just got steamy, sexy, and not afraid to go all the way!
22 Bestselling Young Adult authors reveal what went on behind the curtain in your favorite YA novels! From paranormal to contemporary, this collection features over 200 pages of ALL NEW CONTENT full of sizzle and heat!
Losing It features intimate liaisons, spontaneous sex, awkward and romantic first times between contemporary and paranormal characters. Scenes that will make you blush, and moments that will have you laughing out loud. From mating rituals to fairies, the undead to the unsuspecting, there's something here for every mood.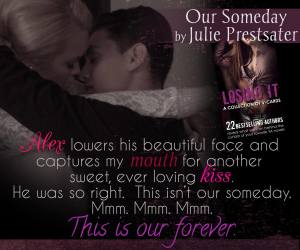 Our Someday is my contribution to the collection. It's an extended—and much sexier—version of a scene from Double Threats Forever (the last book in the Double Threat Series). If you were pissed off at me for ending the series without giving you all the naughty details, here's your chance to find out what happened next. I can't wait for you to read it.