Hello! Remember me? It's been awhile since my last release. It's been almost a year since Before Someday came out. And over a year since Tell Me You Love Me was released.
Well, guess what? Today is the day! It's release day for 9 books in the Hope Falls Kindle World. One of those 9 books is mine: Hearts Afire.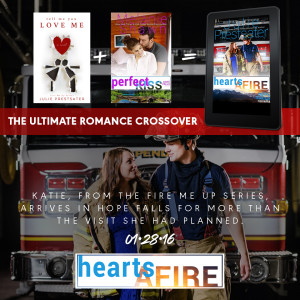 I'm so excited about the release of Melanie Shawn's Hope Falls Kindle World.
Kindle World? What's that, you ask?
Melanie & Shawna (Melanie Shawn) are a sister writing duo who created Hope Falls. It's a 12-book series about a town where humor, romance, and friendship ensues. Let me tell you… I want to live in Hope Falls. I want to marry all the men who live there and have all the gorgeous babies. I want to be best friends with all the women. And eat soup and sandwiches at Sue Ann's Cafe and grab an ice cream at Two Scoops. The world they created is amazing!
Imagine how thrilled I was when they asked me if I'd like to write in their world. I almost peed my pants I was so excited. I agreed immediately. One big orgasmic YES! I thought about the firefighters of Hope Falls. It seemed like the perfect opportunity for a crossover. I'd take a character (Katie–Ryan's litter sister) from my Fire Me Up series and have that character visit Hope Falls! And, of course, she would fall in love and live happily ever after.
And that's how Hearts Afire was born!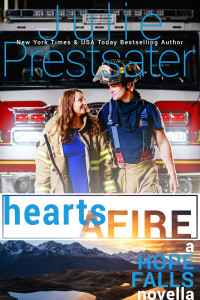 Katie arrives in Hope Falls with two goals: 1) to finish writing her romance novel, and 2) to stay away from men.That's no easy task in a town full of lick-your-lips man candy and nosy matchmakers at every turn.
Casey has a few goals of his own after he makes a fool out of himself with the new girl in town. First, he'd like to have a little fun with her. And second, he'd like to move on.
In this sweet, romantic comedy, Katie & Casey find that goals aren't always meant to be reached. Well, not all of them.
Now, go ahead and one-click your way to this sweet, romantic comedy! 
Thank you for all your support! Enjoy the read!
Xoxo!
Julie