CYBER MONDAY SALE STARTS NOW!
A little something for all budgets!
Happy Holidays!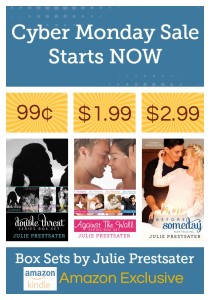 Amazon Links:
<3 The Double Threat Series Box Set
>>> 99 cents! http://amzn.to/1IDU3xS
<3 The Against The Wall Series Box Set
> > > $1.99 http://amzn.to/1xki5wA
<3 Before Someday: Alex Tells All
>>> $2.99 http://amzn.to/1BTWwhP
Regular price $5.99 for each series!
What a deal!
I have new projects coming soon! I can't wait to share with you. One, in particular, is a super secret project.
I will have two new releases in January! Thanks for hanging in there with me.
XOXO,