Confession Time
It's confession time. I've done this before, confessed my guilty pleasures for the world to see. Hell, why not do it again.
Hi, my name is Julie and I have a confession to make. *** holding candle*** I'm addicted to Hallmark and ABC Family movies. I'm a hopeless romantic, lover of all things sweet, and a connoisseur of fine cheese. Not the kind of cheese you eat, but the kind of cheesiness that makes you smile and say "Oh my God, that was so cheesy." Yes. That is me. I look forward to the holiday movies on ABC Family. I have watched Holiday in Handcuffs more times than any one person should. I have a deadline to make and yet I still find myself watching all these new Valentine's movies on Hallmark. I can't wait to watch the one with Lacey Chabert this weekend. I'm not a cat lover by no means and yet I can't stop watching Nine Lives of Christmas. Zachary is infinitely swoonworthy in that movie. I'm obsessed. I can't help it. I may need therapy. So there you have it, not only do I write sweet love stories, I can't get enough of them on TV. Anyone else have this problem? I know I'm not alone. Maybe we can start a support group and watch the movies together, eh.
Losing It
Now, the reason we're all here is because along with 21 authors, I have a new release out today! How exciting is that, right?
Losing It: A Collection of V-Cards is…
22 Bestselling YA authors reveal what went on behind the curtain in your favorite YA novels! From paranormal to contemporary, this collection features over 200 pages of ALL NEW CONTENT full of deleted scenes, extended endings, and more from the young adult series' you love.
In this YA/NA crossover collection all of your favorite heroines are cashing in their VCards! YA just got steamy, sexy, and not afraid to go all the way!
Due to the graphic nature of some content, this collection is recommended strictly for mature readers.
Our Someday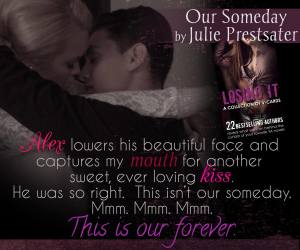 Our Someday is my contribution to the collection. It's an extended—and much sexier—version of a scene from Double Threats Forever (the last book in the Double Threat Series). If you were pissed off at me for ending the series without giving you all the naughty details, here's your chance to find out what happened next. I can't wait for you to read it. It's perfect timing to get you all geared up and ready to go for Alex's book Before Someday which will be available next month. Are you ready for some more Alex? Who isn't? If you are not familiar with the Double Threat series, you can read the 4-book box set for only $2.99.
Ready to Lose It?
You can read the whole collection for only 99 pennies!
Giveaway
The Champagne Room