The Dirty Boys of Summer Box Set
Happy release day to the Dirty Boys authors, including little ol' me!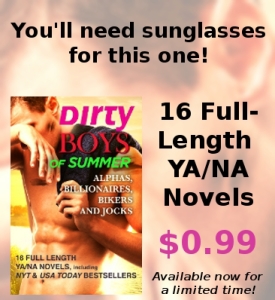 | Amazon |
When I was asked to take part in this box set, I was thrilled, honored, ecstatic! What an amazing group of talented authors and they wanted to include me. How cool is that, right?
Before Someday: Part One- The Wait is my contribution to the box set. If you've read it before, that's okay. Get it in the set too and be wowed by 15 other YA/NA novels. If you haven't read The Wait yet, here is your chance to get 16 novels for the price of one! Great deal, huh. The 99 cent price tag on the 16-novel box set is for a limited time only, so grab your copy now.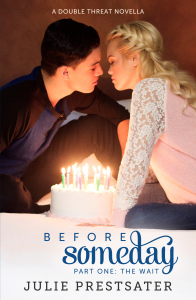 Before Someday is the perfect combination of sweet and sexy, humor and angst, and a whole hell of a lot of love. Alex is the irresistibly sexy and charming guy who Meg falls madly in love with her freshman year. There is just one problem. He's going off to college and she's still in high school.
* * *
"I love you, Megan." The subtle brush of her lips along mine fills my heart with emotion.
"I love you, too, Alex. This is it. This is our someday."
A hint of a smile reveals itself as my gaze catches hers. Four years of heat, desire, love is shared between us. "No, Megan." I lay a soft kiss on her lips. "This…is our forever."
* * *
In the first part of Double Threat Series, you were captivated by the sassy wit of Megan Miller and the heartwarming romance she shared with the guy who stole her heart and took off with it four hundred miles away. You wondered what Alex was up to while he was away at college. You questioned what he was thinking the night they played strip Twister. And you were dying to find out what the hell he could possibly see in Amy. Now's your chance to find out when you read Alex Aguilar's point of view in Before Someday. Alex Tells All about finding the one in this Double Threat novel.
| Amazon |
Excerpt:
Before Someday by Julie Prestsater
Part One: The Wait
I remember the first time I saw her; she had her hair in a messy ponytail. It had been kind of sagging to the side and hair was falling out all over the place. She wasn't wearing any makeup either, which was a nice change of pace from most girls I know. Her attire included fuzzy pajama pants with yellow happy faces on them and a big T-shirt. I was picking up Lydia and she was at their house for a sleepover with Steph. Most girls would have made a quick getaway into the room if a guy walked in. Not Meg. Her cheeks flushed pink for a moment, then she waved at me, and continued watching a movie. I thought it was cool. Different.
So I went into the living room where she sat and plopped myself next to her on the couch while I waited for Lydia to do only God knows what. There were other places to sit, but the spot right next to Meg appeared so damn inviting.
"Where's Steph?" I asked her, digging my hand into the bowl of popcorn that sat in her lap. We both shoved some popcorn in our mouths at the same time.
Some of it spilled from her lips as she tried to reply, "Taking a shower."
I grabbed another handful.
"Help yourself," she said, a half-smile spread across her soft face. "You kinda remind me of Ashton Kutcher in What Happens in Vegas right now."
It took me a second to recall the movie. When I did, I told her, "Except we're not married and I'm not shoving popcorn down my pants." Her eyes widened as she looked back and forth from my face to my fly. "Or maybe you wouldn't mind eating out of here?" I don't know why I joked with her like that; it's not like me to be so crude.
She sure as hell surprised me with her comeback, though. "A little ball sweat never hurt anyone." And then she grabbed another handful of popcorn from the bowl and shoved it into her mouth, some toppling out again. It was the funniest moment ever, leaving us both laughing until my sides hurt. In that moment, there was no doubt in my mind I liked this girl and wanted to get to know her better.
| Amazon |
Get your copy now: | Amazon |
Happy reading! And thank you so much for your support!!!!