Double Threat My Bleep
Tenth grader Megan Miller doesn't feel like such a double threat anymore.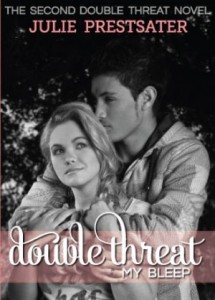 Meggie begins her sophomore year with one less best friend, and a boyfriend who is over 400 miles away. Things couldn't be worse, right? Wrong! Crappy grades, a teacher who is out to get her, and being grounded more times than she can count, double threat her bleep. With Alex being gone, Meggie relies on her girls to keep her busy with parties, movie nights, and trips to Denny's. Joining the crew this year is Travis, who is waiting around for Meggie to ditch her college boyfriend. Can Meg and Alex survive the long distance? Or will the wait be over for Travis?
Meg's 10th grade year is filled with more crap than she can probably handle. During his first year of college, Alex is confronted with missing his probably too-young girlfriend, practically naked girls in his dorm, and a decision he doesn't want to make. While annoying at times, Travis is funny, cute, and doesn't have a problem saying what's on his mind, no matter who's listening. A love triangle is taking shape at Carver High. If anyone said Meggie and Alex were doomed, nobody would believe it. These two were made for each other. But with Alex so far away, anything's possible. Especially with Travis lurking around.
Purchase Now